New MAST® Disc Dispenser – Superior and Accurate performance!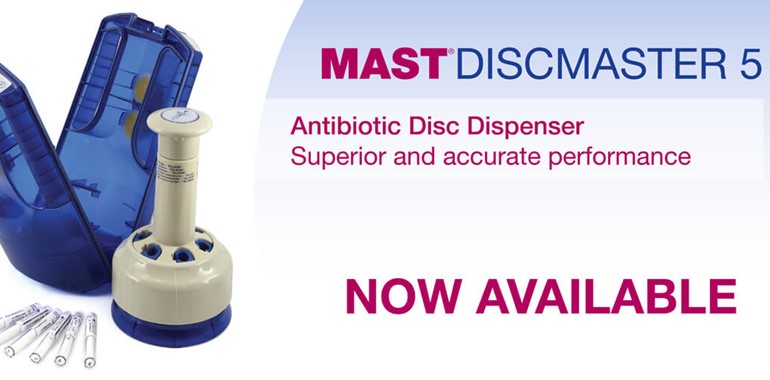 Mast Group Ltd. is pleased to announce its new 5th generation antibiotic disc dispenser.
The MAST® DISCMASTER 5 dispenser has been developed to optimise performance and provides a reliable and robust solution for the dispensing of AST, ID and combination discs within the MASTDISCS® range. Due to its novel and innovative design, the MAST® DISCMASTER 5 dispenser guarantees an in-use shelf life of 4 weeks for all antimicrobials including the carbapenem group when stored using charged desiccant.
The MAST® DISCMASTER 5 is available in a convenient 6-place format in line with the EUCAST disc diffusion methodology, with an easy to use single-handed operation, permitting smooth integration into routine laboratory workflows and high throughput laboratories.
The MAST® DISCMASTER 5 is presented in a canister with new thermoplastic interlocking seals, providing optimal protection against moisture when used in line with Mast silica gel capsules (SILICA63). MASTDISCS® discs positively placed onto the agar surface permitting precise, centred positioning on each dispensing cycle. The stainless steel base plate and ejector pins provide robust and long lasting performance.
In addition, the automatic "lock-off" functionality indicates when the final disc has been dispensed from a cartridge, permitting users to replenish their supply.
---
For details on MAST® DISCMASTER 5 or any other products within the Mast Group Ltd. portfolio, please contact us by using the 'Contact Us' button on this page.